Community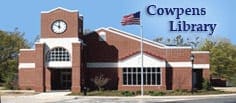 Cowpens strives to be the "Community of Choice" for families and business; embracing the future while respecting our proud heritage and natural environment, and promoting our strong sense of community identity.
Mighty Moo Festival
In 1976, the Cowpens Bicentennial Committee decided that the next town festival would be called the Mighty Moo Festival in honor of former crewmen of the USS Cowpens WWII aircraft carrier.
On July 2, 1977, one crewman, Mr. O.J. Simpson of Charleston (SC), attended that festival. By 1982, the number of former crewmen attending the festival had risen to over 115.
In recent years, the public attendance has swelled to over several thousand during the three day event.
The festival has street dances, a golf tournament, pageants, baseball games, reunions, and a parade that honors the former crewmen of both the USS Cowpens CVL 25 and the current USS Cowpens CG 63.
The yearly festival is held on the third weekend of June.
Timken Community Center
The Timken Community Center features programming for children and adults in the Cowpens area. The facility includes a fitness center, a computer lab, activity rooms, and conference rooms. These spaces are available to rent for weddings, showers, birthday parties, and other events. Call 864-406-0726 for more information.