What is TextMyGov?
TextMyGov Smart Texting Technology directly assists citizens with requests 24/7.
What can citizens accomplish with a text message?
Report Issues: Road damage, code violations, and animal control.
Find Information: Trash pick-up schedules, city office hours, and parking info.
Request Permits: Building, zoning, sign permits, & more.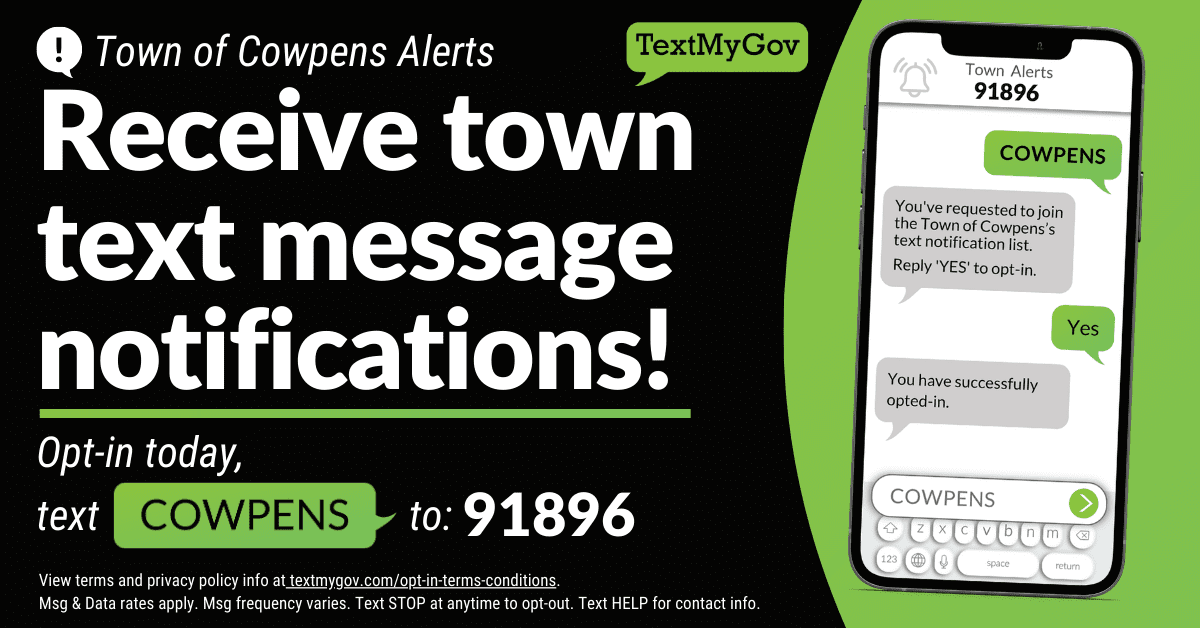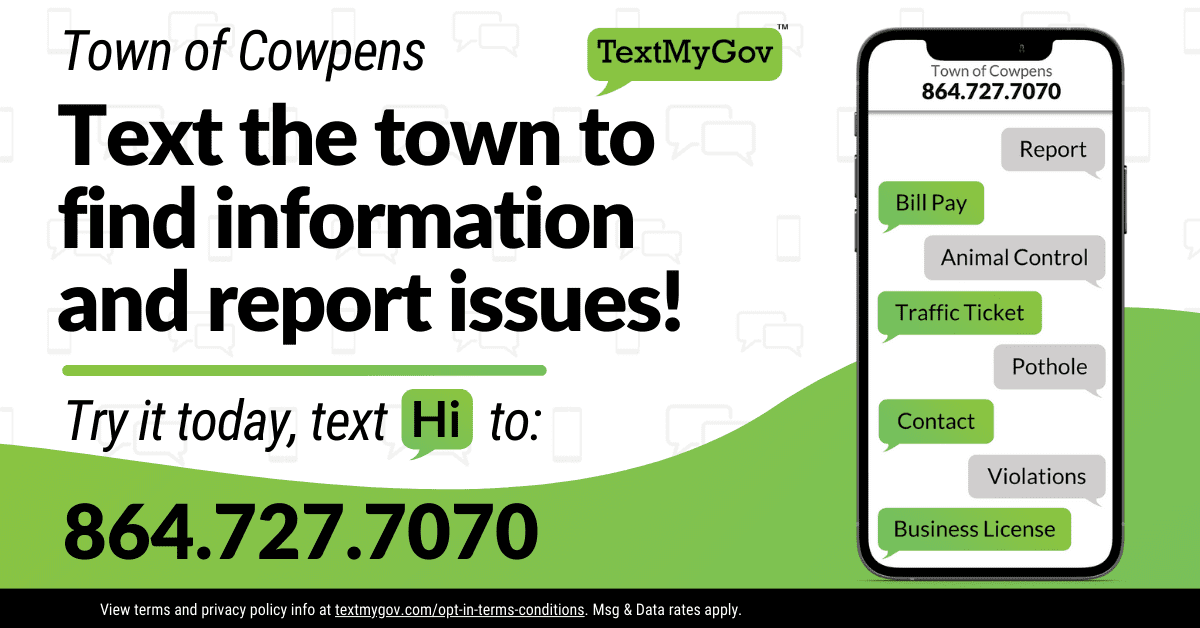 Garbage Collection
The Town of Cowpens provides collection of garbage and solid waste free of charge each Friday for residents. Click here to view holiday schedules.
Roll carts are provided to each household and should be placed on the curbside by early Friday morning to ensure pickup. Damaged or stolen carts may be replaced by contacting Town Hall during regular hours. Garbage collection is provided under contract by Waste Management of SC.
Roll carts should be put at the curb where they are easily accessible for the collector, no more than three feet from the curb.
Roll carts should be put out for collection not more than 30 minutes before sunset the day prior to collection and removed from the curb not more than 30 minutes after sunrise on the day following collection.
Yard waste, composed of small limbs and leaves, is collected on an as needed basis.  Residents should create separate piles of leaves and limbs as specific machinery is used to collect each.
Larger items, such as appliances and furniture, are only collected semi-annually during community wide clean-up events and are widely publicized in advance. Large items may be taken by the resident to the County Landfill any time of the year. Hazardous materials, tires, paint, and related materials should be taken directly to the landfill.
Residents may also deposit household trash at the Spartanburg County Collection Center located on Ellis Road. (Directions – US Hwy 29 towards Spartanburg, turn left at first traffic light onto Clifton Road, Collection Center on left.) The Collection Center is open 7am – 7 pm Monday thru Saturday. It does not accept furniture, tires, lumber, or other large items.  These items must be collected by private contractors or taken to the County Landfill in Wellford.
Residents not in the Town of Cowpens are responsible for removing their garbage. Garbage can be taken by the resident to the Spartanburg County Collection facility on Ellis Road, or it can be contract by a private company.
The Town of Cowpens conducts Fall Cleanup and Spring Cleanup the last week of September and March each year. Please call 864-463-3201 Ext 1 for details about what items are excluded.
Road & Street Maintenance
Most all streets and roadways in the Town are owned and maintained by either the South Carolina Department of Transportation (SC DOT) or the Spartanburg County Department of Roads & Bridges.
Employees of the Town Street Department will remove fallen limbs and debris from the roadways when State and County work crews are unavailable.
Traffic signals are maintained exclusively by the SC DOT.
The town maintains local street signs and occasionally mows grass and weeds along roadsides which are not maintained on a regular basis by other agencies.
SC DOT Spartanburg Maintenance – 864-587-4725
SC Highway Patrol – 864-587-4700
Spartanburg County Roads & Bridges – 864-595-5320
Town of Cowpens Street Department – 864-463-3201 Ext 0
Animal Control
Complaints regarding pets and animals are handled jointly by the Town of Cowpens and Spartanburg County Environmental Enforcement.
Barking dog complaints and incidents involving serious injury or the threat of immediate injury should be reported to the Cowpens Police Department.
Spartanburg County Environmental Enforcement handles incidents of animals roaming at large, rabies tags, license violations, dangerous, vicious, and nuisance animals, strays and unwanted animals, and animals that must be quarantined.  Call 864-596-3582 for more information.
Water & Sewer
The Spartanburg Water System and Spartanburg Sanitary Sewer District maintain and control all aspects of the water and sewer systems.
Questions or comments concerning water and sewer should be directed to (864) 582-6375.
5330 N Main St
Cowpens, SC 29330
(864) 463-3201 (office hours)
Emergency 911
The Cowpens Fire Department provides fire service protection to both city residents and (by contract) to nearby residents of Spartanburg County.
Station One
144 Battleground Rd
Cowpens, SC 29330
(864) 463-6722
ISO Class 4
Additional Public Safety Contacts